The first edition of this running event was organised in 1986 with about 800 participants. Steadily the event was growing, and since everybody started to run with "Evy Gruyaert" the event welcomes nowadays around 30.000 people.
Meanwhile a short 5 km run and a marathon were added, however the traditional 10 miles remains by far the most popular.
Start and finish are on "linkeroever". The track goes via the Kennedytunnel into Antwerp city center and via the Waaslandtunnel back to linkeroever.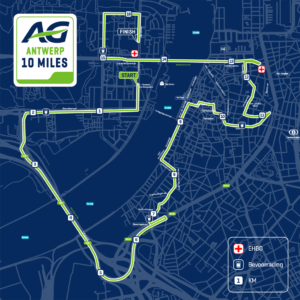 This year 5 employees of skeyes were participating to the Antwerp 10 miles. Congratulations to all for finishing in a wonderful time !
Frederik Schelkens 1:18:02
Huibrecht Kornegoor 1:27:40
Davy Couvreur & Natascha Taecke 1:48:39
Jan Straus 1:50:39
Bart Knaeps DNS